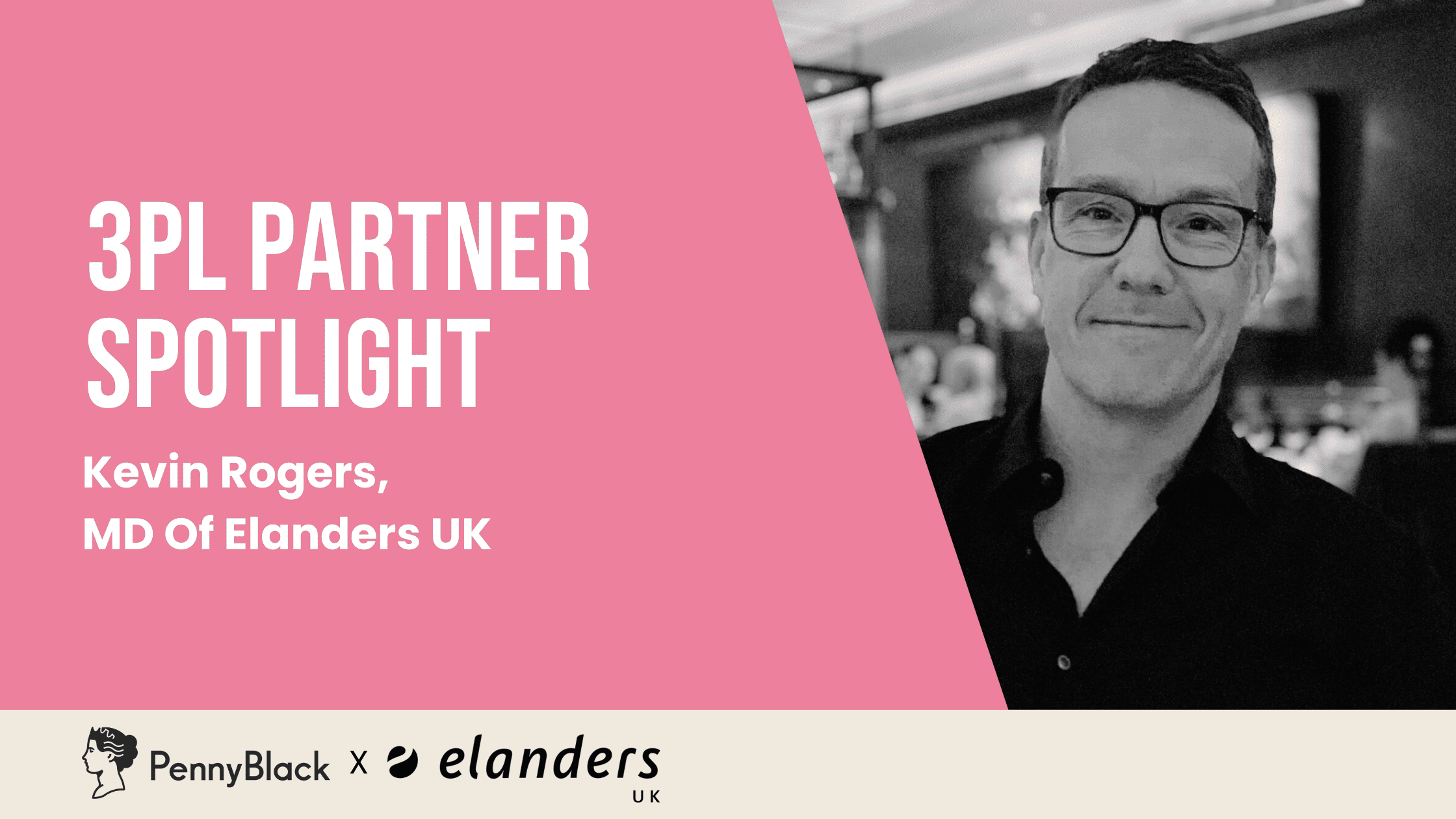 3PL PARTNER SPOTLIGHT
8 questions with Kevin Rogers, MD of Elanders UK
At Penny Black, we work with leading 3PLs to make what was previously impossible, possible: Printing and adding personalised inserts to customers' orders, on-demand and in real-time.
The results? 3PLs get to push personalisation as a value-added service their competitors can't. Meanwhile, ecommerce brands gain another marketing touchpoint to build emotional connections with their shoppers. In the end, both parties benefit from increased interest, retention and revenue.
To celebrate our recent partnership with Elanders Group – a global leader in supply chain management, print and packaging – we sat down with their UK Managing Director, Kevin Rogers. We asked him about what the partnership with Penny Black means to Elanders Group and what his envisioned future for the partnership is.
Q: Tell us a bit more about Elanders Group and your role there
A: Elanders is a global 3PL business, providing integrated shipping and logistics services in printing, packaging and end-to-end 3PL services.
I'm the Managing Director for Elanders UK and President of Sales & Marketing. In my role, I support global ecommerce businesses to achieve sustainable and effective supply chains so they can delight and retain customers long-term.
Q: Why should DTC brands consider working with 3PLs like Elanders UK
A: There are loads of reasons why a brand should consider working with us!
One key benefit is our ability to support internationalisation. We operate across 20 countries worldwide due to our single point of integration across multiple warehouses. We have a joined-up approach to deliver a seamless end-to-end global supply chain service meaning brands can operate with little or no hiccup when fulfilling across borders.
On top of this, Elanders is a completely customer-centric business and sustainability is built into our DNA. This means every decision we make has our client's needs and wants at the heart.
Q: What made Elanders decide to partner with Penny Black to personalise packaging?
A: We had been looking for a technology that elevated our print and supply chain expertise and that helped brands level up the experience they provided to their customers across the ecommerce journey.
"Early on in our conversations with Penny Black, it became clear that we'd found a partner with a shared vision and similar values to Elanders. "
Much like how our own business operates, we discovered that the Penny Black platform was built with the vision to improve efficiencies within 3PL operations through innovation.
Q: What problems does Penny Black solve for Elanders?
A: Penny Black has solved the blockers we had when being able to provide brands with a personalised unboxing experience for their customers.
The platform has now meant we've been able to realise our business vision of helping brands to produce highly targeted campaigns and personalised inserts, all within our distribution centres.
Q: How will the Elanders and Penny Black partnership benefit your business, and the brands you serve, long term?
A: First and foremost, the partnership adds value to our customers. With Penny Black, they can create highly engaging and targeted communications that build loyalty and elevate the customer experience with that brand.
In turn, this adds value to Elanders because we're able to integrate our print, packaging and supply chain expertise with Penny Black's personalisation capabilities to provide a winning solution few other 3PLs can provide.
Q: How have you found working with the Penny Black team?
A: Both Penny Black and Elanders have a shared vision. We're also both passionate about creating unique and personalised experiences for our customers' shoppers.
"The Penny Black team have been a dream to work with and I'm convinced we've found the perfect partner!"
Q: What do you see the future of the Elanders and Penny Black partnership to look like?
A: I envisage we'll have tens or maybe hundreds of ecommerce brands using the full potential of personalised packaging and print to grow their business (and in turn grow both Elanders and Penny Black). I can also see us working together across more regions in the EU, America and Asia to deliver personalised unboxing to more of our international clients.
Q: As a fulfilment and logistics expert, what do you predict the future of logistics will look like?
A: In the future of fulfilment, I see that the full end-to-end experience will be more personalised and engaging: from the first moment a shopper interacts with a brand online, all the way through to how the goods are delivered to that shopper's doorstep.
The ability to serve this will become faster, more demanding and highly competitive. This is why brands will need to use the way they fulfil orders to differentiate and provide a more tailored experience for their customers.
Want to partner with Penny Black?
Just enquire to start a 3PL partnership and we'll get back to you with next steps.