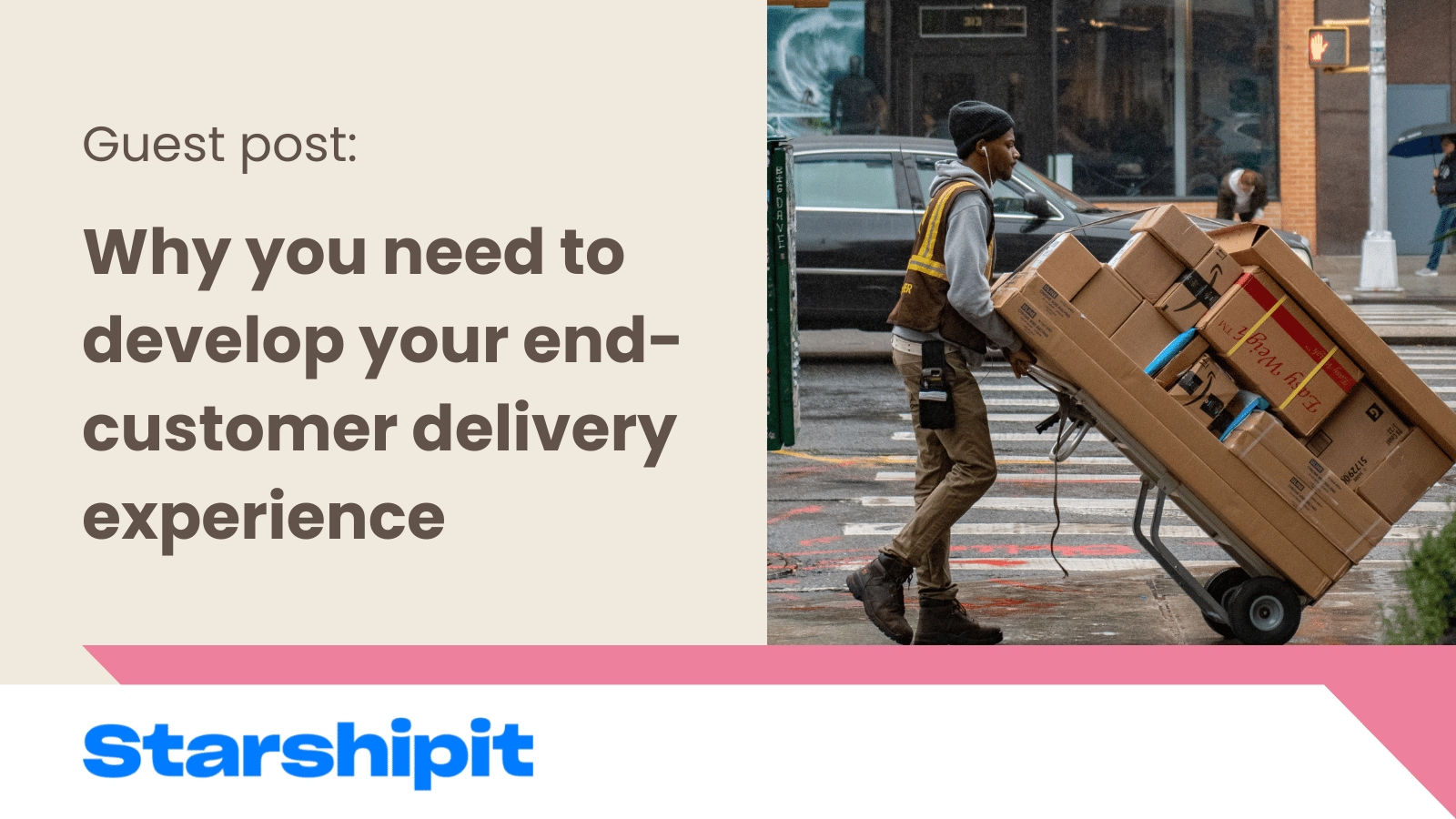 Why you need to develop your end-customer delivery experience
Brought to you by Starshipit
Getting your delivery experience right is an essential part of running an ecommerce business. Did you know that 85% of online shoppers say that a poor delivery experience would stop them from ordering from the same online retailer again?
When your customers have a positive delivery experience, you have a much higher chance of encouraging repeat purchases and creating truly loyal customers.
In this article, we're going to look at the factors that make a great delivery experience and how you can get started. We'll also look at a couple of real-life examples.
What makes a great delivery experience (key factors to consider)
There's a lot that goes into creating a great delivery experience, from the timeframes for package delivery to the experience of opening the box when the order arrives. Here are a few key factors to consider:
Delivery times –

Speed is now a main point of difference for many businesses. You only need to look at companies like Amazon and services such as Uber Eats to see how peoples' expectations around delivery times have changed
Cost –

Surprisingly, cost isn't a huge factor when customers are choosing delivery options – shoppers prefer to get their orders quickly. A study from PwC noted that

41%

of customers are willing to pay for same-day delivery, and 24% will pay even more to receive a package during a one- or two-hour window
Sustainability –

While not as important as speed or cost, customers are starting to care about sustainability too. Offering carbon offset shipping or sustainable packaging might just give you an edge over your competitors
Personalisation –

The packaging you send out with an order is the best chance your business has to give customers a

personalised touch

at the moment of delivery. After all, a sales representative isn't going to be there to hand over the order. Personalisation could mean a customer insert that refers to the customer by their name or mentions information on their order, the content on the box itself or something else entirely
Customer service –

If something goes wrong during delivery, being able to contact a real person is the best way to show your customers that you care
What can impact the delivery experience?
Hopefully, the list above has started generating some ideas around some of the things you can change to improve your own shipping experience. But you've also got to be aware of what can hold you back.
Technology
A lack of automation, outdated or disconnected systems and technology that just isn't up to task will be a major barrier when it comes to creating a finely tuned delivery experience. You need platforms that can scale and that you can rely on.
Insights and data
 It's essential to understand your delivery performance if you want to make improvements. How fast are orders getting to your customers? Which stores or warehouses do orders ship from? How do your customers feel about the experience of purchasing something from your store?
Communication
Once a customer clicks "buy now", what happens next? You need to keep customers in the loop throughout the delivery process with tracking and notifications. People don't want to be left guessing as to when an order is going to show up.
Three steps to create a great end-to-end delivery experience
With everything we've covered in mind, here are the three areas you should focus on to create a great shipping experience for your customers.
Customer choice
Whether it's the courier or the delivery timeframes and shipping rates, your customers want choice. This is one of the major contributing factors when it comes to the shipping experience. Chances are you'll have a large portion of customers willing to pay more for same-day delivery, while others will be content to go with the cheapest option, even if it takes a few days longer. The key is, give your customers choice at the checkout.
Personalisation
Increase retention and grow word-of-mouth referrals by adding personalised touches to each of your outgoing orders. How you personalise orders is up to you, but there's no shortage of services available to make the task easier. You may also be surprised to learn just how many will easily integrate with your existing workflows too.
Automation
There's a lot you can automate in your business, but here we're talking about shipping automation. When you introduce smart fulfilment automation software, you can reduce the internal pressure to get orders out the door (by saving time printing labels and managing multiple couriers). But you can also set up branded tracking pages and automatically send out SMS and email notifications to let customers know where their orders are. This will mean happier customers – and fewer calls through to your support team.
Great delivery experiences in practice
Now you know what it takes to create a great delivery experience, let's take a look at how they can look in practice with some advice from leading brands in ecommerce. 
Advice from Mountain Culture – learn more
"Get the packaging right. It's important for so many reasons – it's a huge part of your marketing as well as keeping the product secure. It's also such an exciting part of the journey for the customer – there's nothing like opening an exciting box."
"One of my biggest pain points was the amount of time it took to print a label. I would have to input so many fields for each package, mostly the same details every time, just to print one label. I would spend up to an hour or more a day filling in long forms. Since using my courier and Starshipit together I can automate all those manual entries and I save up to 60 min a day. Automating all those manual tasks has unlocked so much time. I make my product by hand, this means I can spend that hour a day making more."
"We wanted to find a way to track customer engagement, improve customer retention and cross-sell more of our products all at the moment a customer opened their order. Using Penny Black we set up two campaigns where personalised, in-package flyers were printed on high-quality recycled card and added to our customers' orders. They included discounts and welcomed shoppers into our brand community. With these flyers we were able to secure lots of repeat purchases as scan rates on the QR codes were 7%, resulting in 15-20% conversion rates."
Wrap up
With 85% of online shoppers stating that a poor delivery experience would stop them from ordering from the same online retailer again, this is one area of your business that you need to focus on.
Thankfully, it's become even easier thanks to the range of great, automated solutions available on the market. For example, Starshipit's fulfilment automation platform is designed to help you save time and deliver great shipping experiences – all while integrating with your couriers and platforms.
Penny Black, on the other hand, can be easily set up right within your warehouse to deliver personalised and branded experiences for your customers the moment they receive a package.
Get in touch with the teams at Penny Black and Starshipit today.