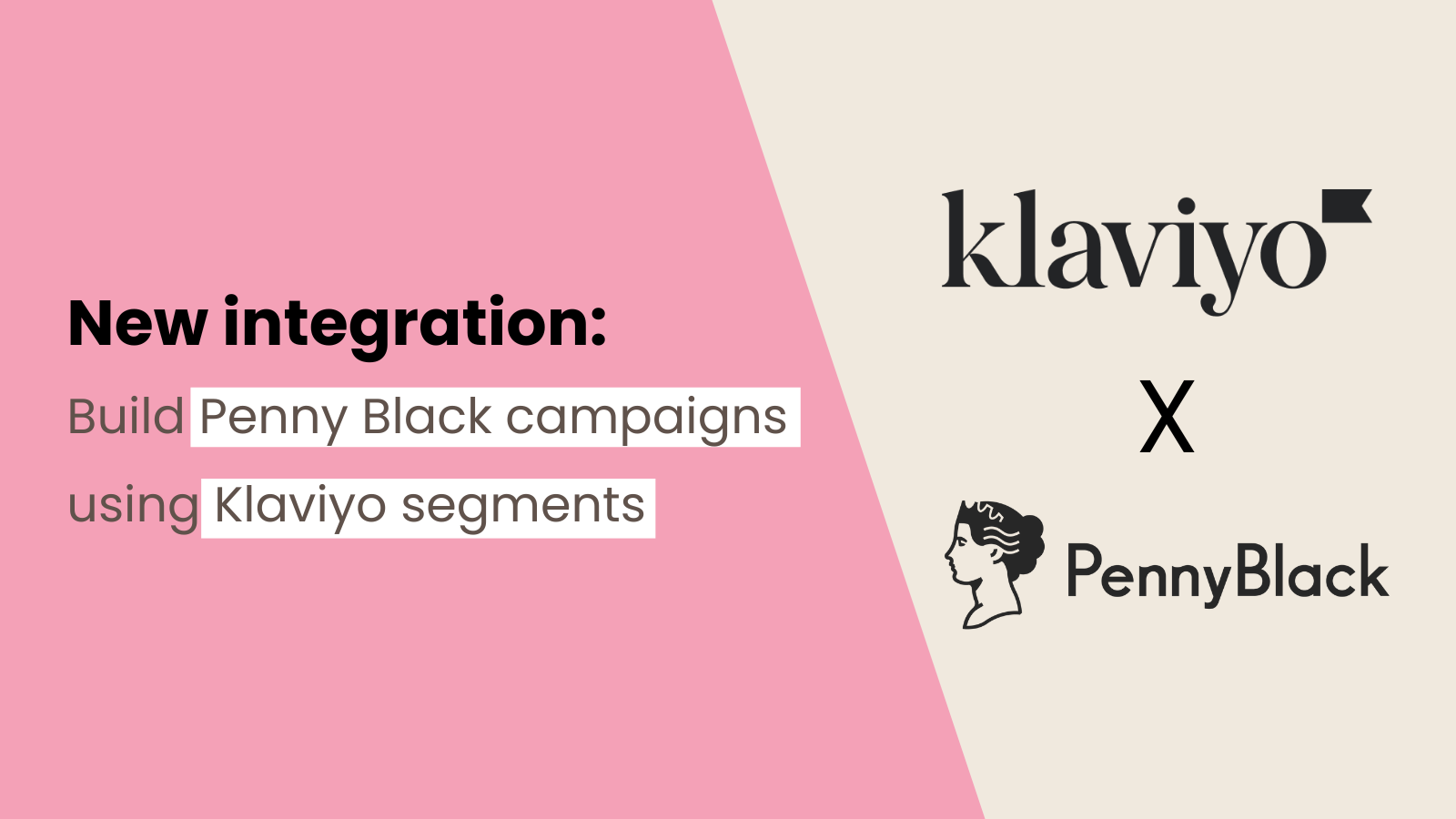 Build High-Performing Penny Black Campaigns Using Existing Klaviyo Segments
Roll up, roll up, big news just broke at Penny Black. We've launched a brand new integration with the most famed email and SMS platform… Klaviyo!
Now, every single touch point you have with your customers is completely personalised; including one area where personalisation could never touch before – the unboxing moment.
The new integration means you can create Penny Black campaigns using your existing Klaviyo customer segments in just a few clicks. And, using first-party data from Klaviyo, your Penny Black campaigns can become even more personalised, meaning you can better convert, retain and build relationships with customers at scale.
Here's what Klaviyo's Strategic Partnerships Manager, Jordan, had to say about the new integration: 
"Penny Black is a really exciting new integration for Klaviyo customers. This integration unlocks a whole new channel for our brands to continue communicating and building long-term relationships with their customers. I love the concept of both hyper personalising the unboxing experience, whilst also encouraging customers to come back, check out new content, and, even, sign up for the newsletter."
In summary, here's what the integration means for you:
You can now take your existing, high-performing Klaviyo segments and emails and bring them into print, catching customers the moment they unbox their order
Your Penny Black campaigns can now include first-party data you collect in Klaviyo from across your whole tech stack (including your loyalty program, SMS platform, help desk and reviews provider) 
You can unify all your marketing messages across email, SMS and print, making sure they get engaged with the same messaging across the post-purchase journey
You'll be able to bring customers back into the online journey and encourage them to repeat purchase (or engage with your brand through content, reviews or referrals)
Using the tools together, you'll be able to improve key retention metrics like repeat purchase rates, CLTV, email sign-ups and community engagement
"Our new integration with Klaviyo is going to help brands connect their marketing tech stack to see better results – particularly when it comes to retaining customers. And, as Penny Black is able to match Klaviyo's same standards of personalisation and design, you can essentially take your Klaviyo emails and re-purpose them in print format. A win for any brand looking to level up their customer experience and make the unboxing moment one to remember."

The jewellery brand, PAUL VALENTINE, is also excited about the new integration and are planning on using it to grow their community and level up their customer experience. 
"We are super excited to have the Klaviyo integration as it will allow us to address and segment our customers much more effectively. We believe that being able to personalise post-purchase communication through tailored offers according to our Klaviyo customer segments will be a huge game changer in increasing our customers' experience with us as we'll be able to meet their individual needs. The flyers serve as a personalised note that should not only give them access to tailored offers but also make them feel part of the PAUL VALENTINE Community that they will want to return to over and over again."

So, a celebration is clearly in order. But, if your looking for inspiration and use cases for this integration, then keep reading. Or, if you want to jump to a product demo, click here.
Klaviyo and Penny Black use cases
The use cases for the Klaviyo and Penny Black integration are pretty much endless. Because you can sync across any and all of your existing Klaviyo segments, you can start by replicating the same Klaviyo emails you already send post-purchase into real-world physical media. 
Here are a few to start with:
Welcome Campaign
Loyalty campaign
Email sign-up campaign 
Subscription-based product campaign
Let's dive into these deeper.
1. Welcome campaign
It's email marketing 101 to have a welcome email campaign set up. Once you've got a customer to make a purchase, these emails thank them for their purchase and makes them feel valued. Add personalisation to the mix, and you'll be able to encourage first-time customers to shop with you again as you're showing you know them on a personal level.
Well, imagine if you could recreate that experience the exact moment a shopper opens their order. And, at the same time, minimise the risk that these welcome messages get missed in the inbox, deleted or reported as spam.
With the new integration, you can recreate your Klaviyo welcome emails in print format with the same level of personalisation and messaging. Just find your Klaviyo segment for new customers using our search functionality. Then, create and upload a flyer design that matches your welcome email. This could include a discount, messaging that tells them more about your brand and thanks them for their purchase. Then, push the Penny Black campaign live so these flyers go in every new customers' order.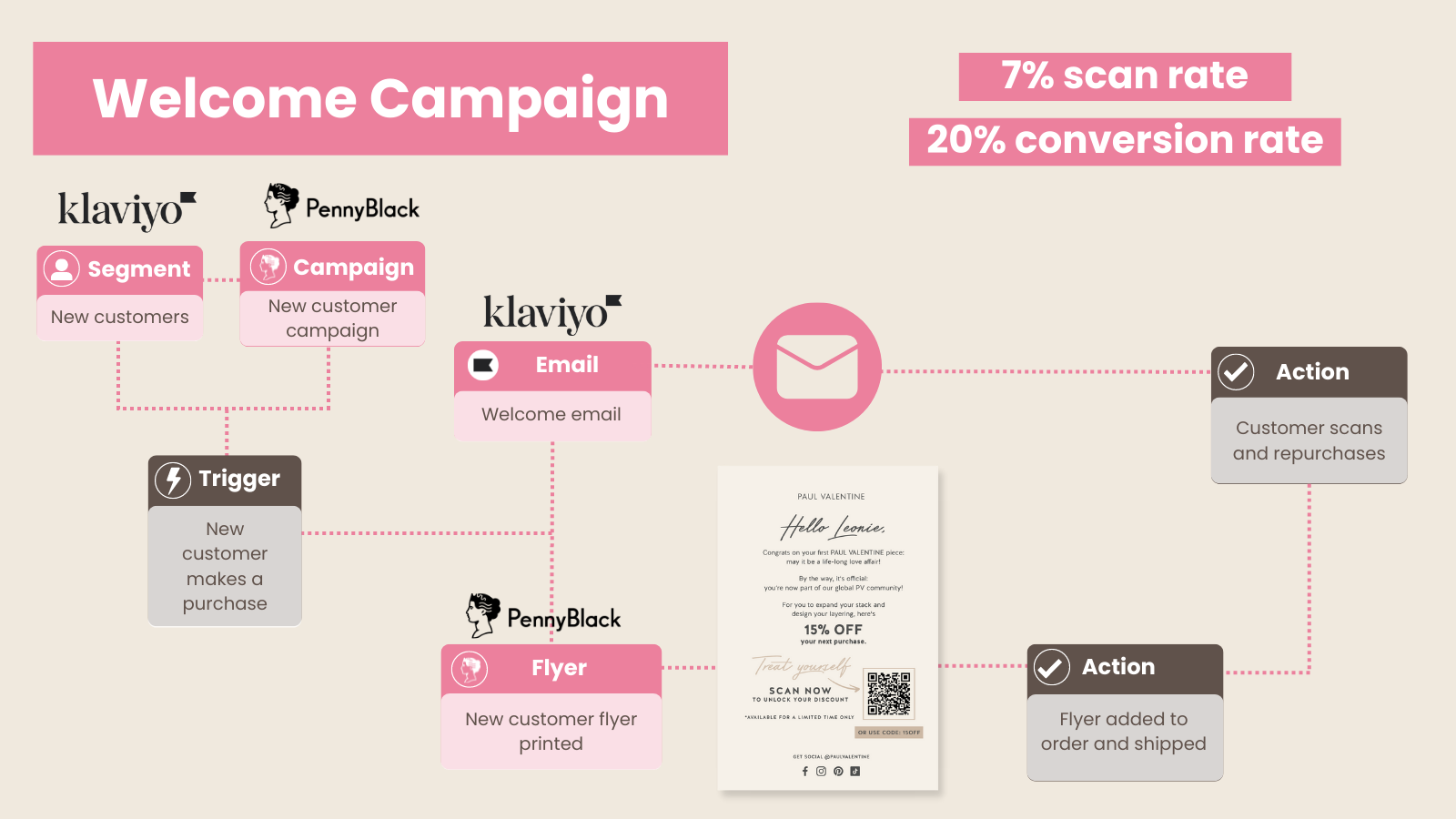 Already, we see Penny Black campaigns of this nature encourage customers to complete a second purchase, resulting in conversion rates of +20%. And, with welcome emails getting conversions of 50%, combining the two could get you even closer to getting every new customer to make that all-important second purchase.
2. Loyalty campaign
To cut through inbox clutter, you might be running personalised email campaigns that are unique to your loyal customers. These emails might make them feel like valued members of your community while promoting exclusive perks and experience.
With the Penny Black and Klaviyo integration, you can take your loyal customer segment and create an unforgettable unboxing experience that makes them feel valued. Your flyers should address the customer by their name and reference data points (pulled from Klaviyo) that show you know about their unique behaviours and preferences. These flyers could motivate them to join your community, refer friends or tell them about exclusive perks they've unlocked. 
The tea brand, Bird & Blend, send their already loyal customers a Penny Black flyer that encourages them to sign up to their "Brew society". Here, they get access to VIP experiences and a secret website. This campaign has an average scan rate of 23% as it makes these loyal customers feel like a valued member of their community.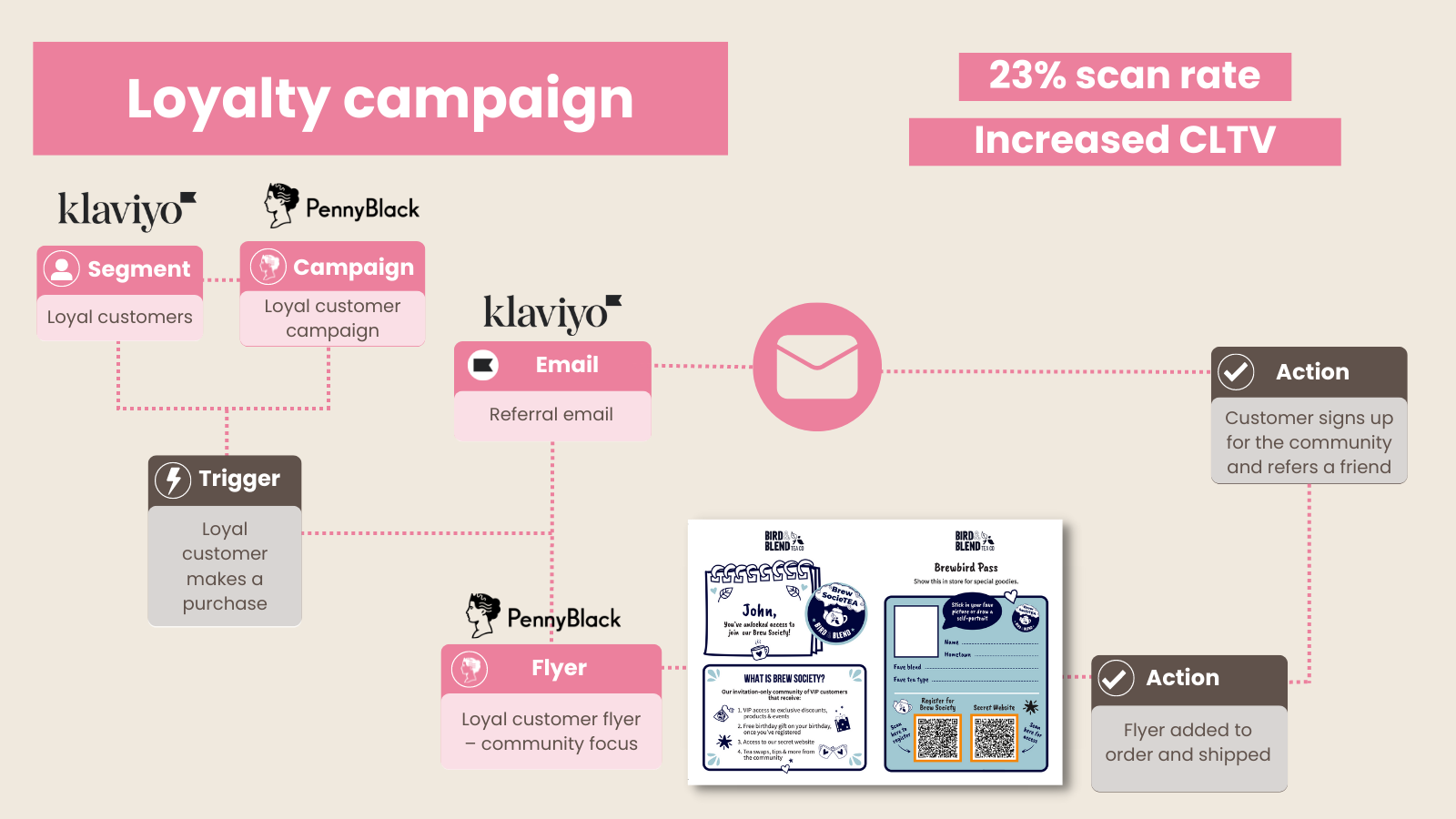 3. Email sign-up campaign
You could be running world-class email campaigns that retain customers, increase conversions and build loyalty. But, you're not going to see the best results if you have a whole cohort of customers who have opted out of your email marketing – maybe they've checked out as a guest or have unsubscribed from your marketing comms. 
With the Penny Black and Klaviyo integration, you can use the unboxing moment as an opportunity to get more shoppers to sign up for your email marketing, helping you grow your Klaviyo lists. 
To do this, you can create a segment in Penny Black in one of three ways: 
Create a segment that includes customers who are

not

included in your main Klaviyo segments already

Create a segment based on whether the shopper has a customer tag in Shopify that says they're

not subscribed

to your emails

Or, create a campaign for customers who have not given marketing consent
Your flyer design for this segment should then communicate to these guest shoppers the benefits of signing up for your email marketing – whether that's access to deals, exclusive content or new products. You could even incentive them to sign up with a 10% discount on their next order if they opt in. Don't forget to include a scannable QR code that takes shoppers directly to the subscription page where they can sign up with just a click.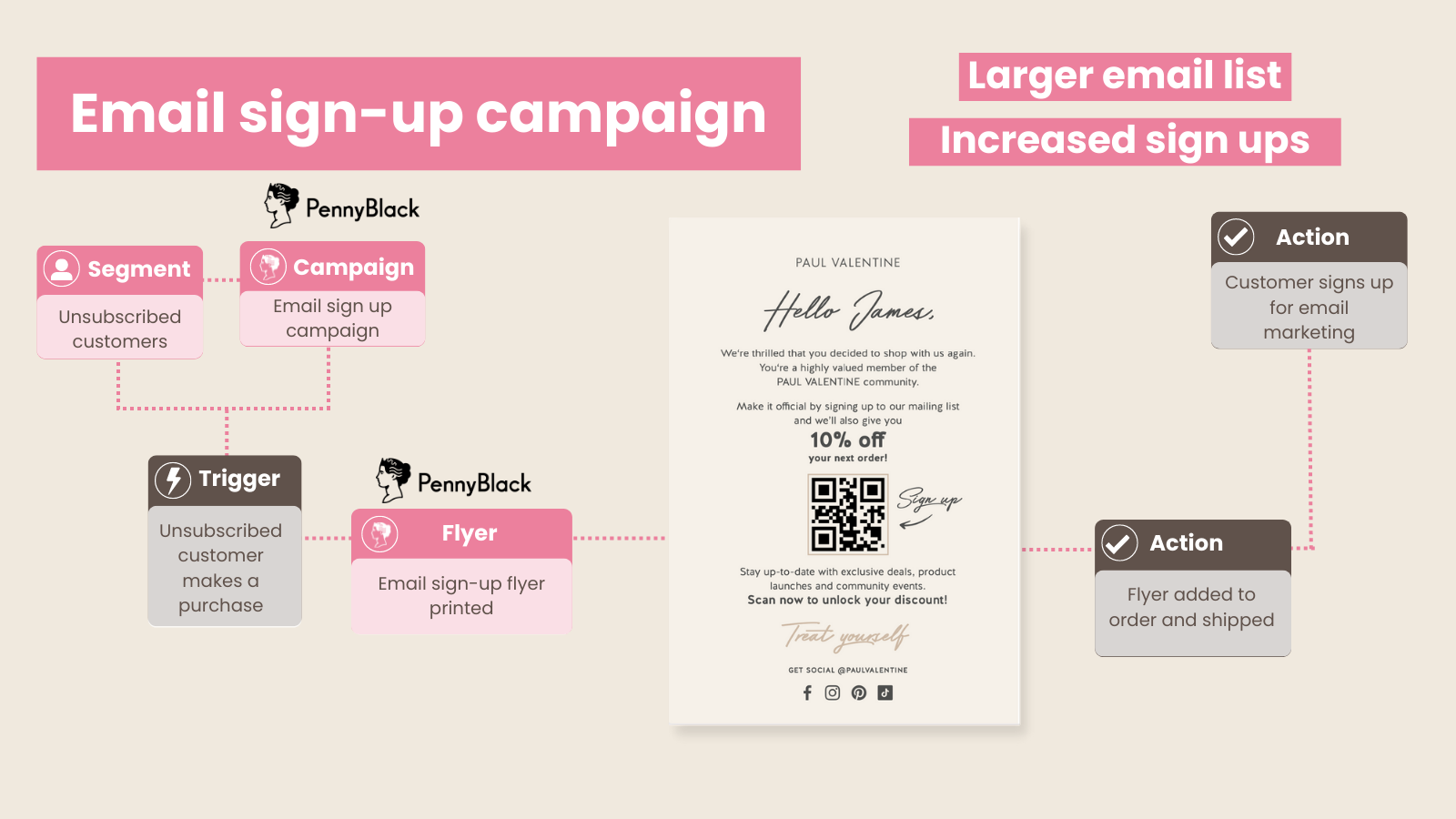 4. Subscription-based campaigns
If you have a subscription-based product, your Klaviyo emails are probably a crucial channel to turn one-time customers into subscribers. With the Klaviyo and Penny Black integration, you can go one step further to get even more subscribers.
Simply create a Penny Black campaign that excludes everyone in your Klaviyo segment of customers who are marked as subscribers. The design should motivate them to opt into a subscription by telling them about the additional perks they're missing out on. These designs should also include a QR code that takes them to a page where they can automatically set up the subscription for the product they've just ordered.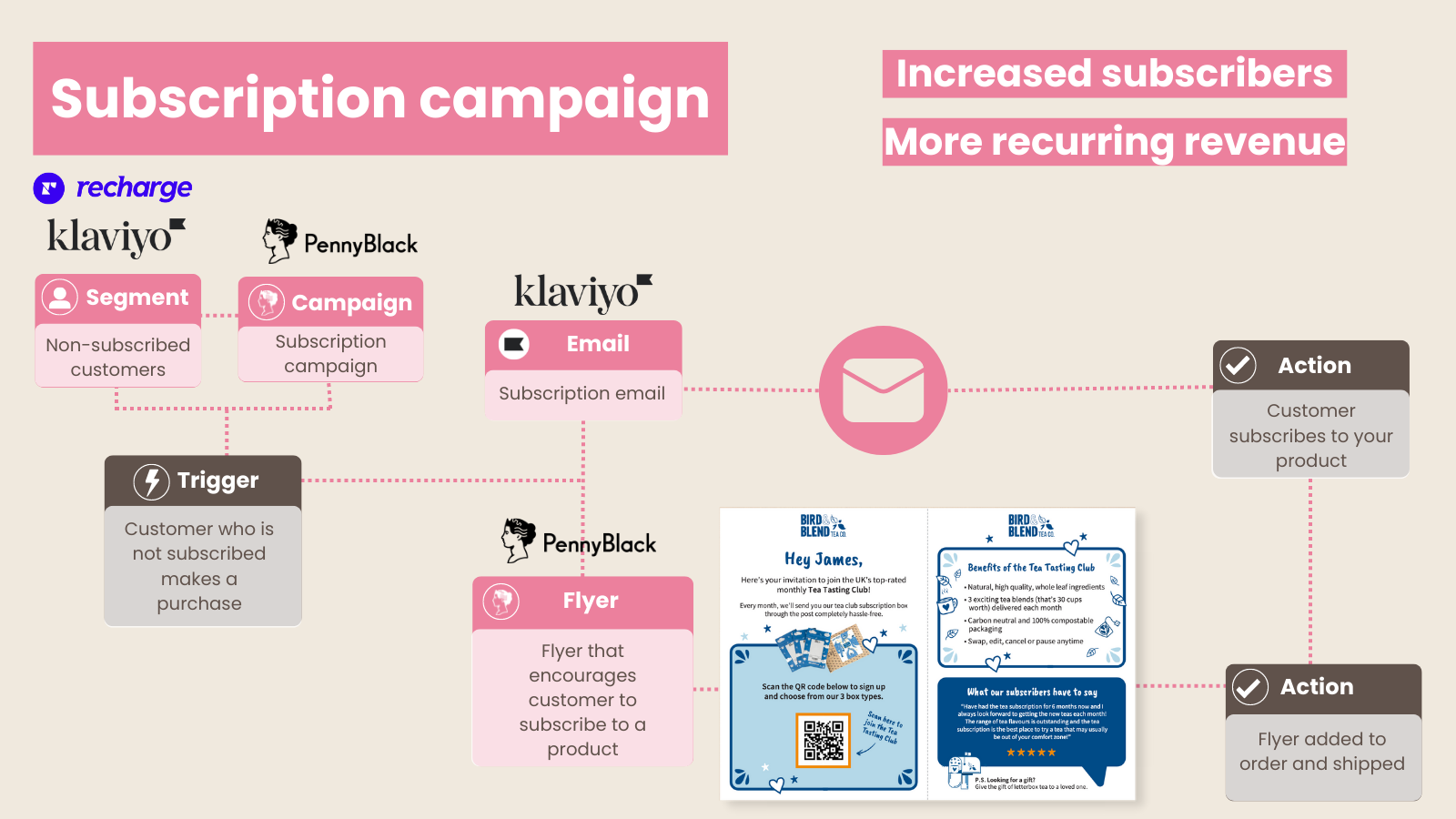 Watch: Klaviyo and Penny Black demo video
Want in on the action?
We're over the moon with our integration with Klaviyo – and we hope you are too. The partnership means you get access to more data, segments and opportunities to use your unboxing moment as your newest marketing channel.
Want to chat with us more about ways to use Penny Black and Klaviyo together to see results for your brand? Click here and fill out the form to get in touch with a member of the team.