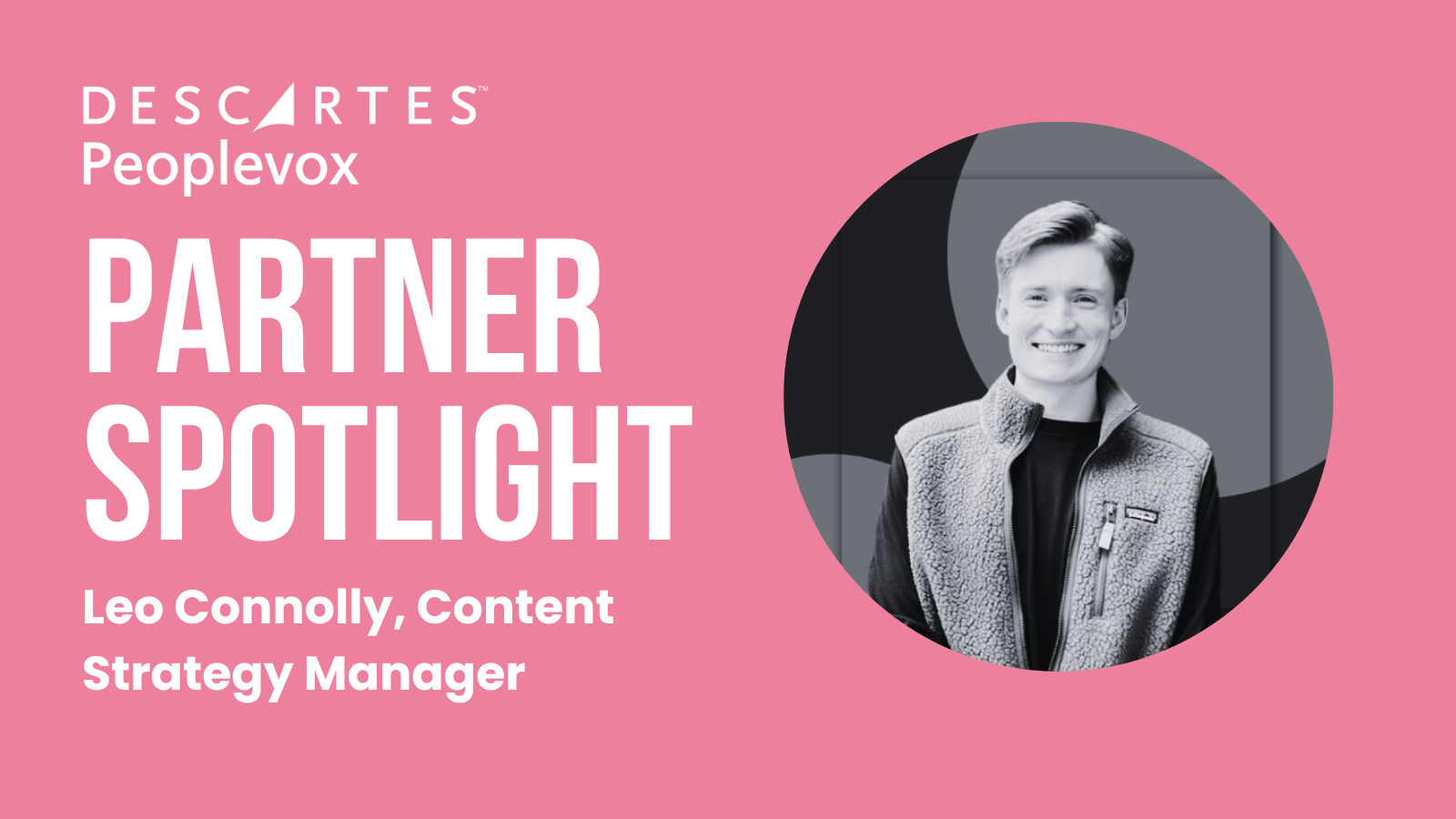 PARTNER SPOTLIGHT: 6 questions with descartes peoplevox
At Penny Black we know that to make truly magical unboxing moments work, we have to be a seamless part of every brand's fulfilment process. That's why we integrate with a wide range of warehouse management systems (WMS) that make a brand's life simple. One of those integrations is with Descartes Peoplevox – the leading WMS for brands that self-fulfil. Together our technologies are allowing more brands to bring precise fulfilment and personalisation together to create unforgettable customer experiences.
In this article, we sit down with Leo, Peoplevox's Content Strategy Manager, to share more about our partnership and the future of efficient fulfilment.
Q: Tell us a bit more about what makes Peoplevox unique and your role there?
A: Peoplevox is the go-to Warehouse Management System for ambitious, fast-growth brands. We're able to support a merchant from their early days shipping just a few hundred orders a day all the way up to 10s and even 100s of thousands a day in some cases. We have a global reputation, as part of The Descartes Systems Group, for partnering with great businesses for the long run and driving their growth through remarkable customer experience and fantastic warehousing

Alongside the WMS platform itself, Peoplevox is all about the community of operators and founders that use it. We support the amazing brands we work with through networking opportunities, peer-to-peer learning, in-person meet-ups, events and valuable content. 

My role is at the centre of that – as part of the marketing team, I'm responsible for making sure there are as many customers and partners out there who know what we're like to work with and are happy to sing our praises. I also produce a lot of our content on the website and social media, case studies, videos, and articles like this one.
Q: How is Peoplevox working with Penny Black today and what's the future of the partnership?
A: Whilst this level of collaboration is in its infancy, Peoplevox and Penny Black have actually been working side by side for some time in a number of operations. Most notably, Bird & Blend Tea Co. use Peoplevox to pick, pack and dispatch their orders, whilst Penny Black provides bespoke, personalised inserts into every customer package. Seeing how effective this combination has been for the shared customer has led us to work more closely together.
"We see a really exciting opportunity for more brands who care deeply about both customer experience and fulfilment efficiency to build out their tech stack with Peoplevox and Penny Black integrated. "
Q: With the upcoming seasonal sales rush, what advice do you have for brands to make sure prepare accurately to make this peak their best one yet?
A: Preparation really is everything when it comes to peak. The top brands out there have a super tight handle on data. How many orders can one warehouse operative be expected to pick or pack in a given time period? How many orders are we expecting? How many temp staff do we need? Overspending on labour can lead to the "cost to fulfil" skyrocketing and cutting deep into margins that are already at breaking point due to the discount codes and sales being offered.
Practical, often overlooked advice – how much tape do you need?! Will you have a free-flowing supply of packaging material and thermal labels? And get the tunes on!
"Motivation and employee morale can really be tested when the pressure is on at peak and the orders are piling up. Anything managers can do to get the best out of their staff can make a difference as the overtime stacks up. Leave aside clever strategy meetings for just a second… energy drinks and friendly competition between staff might be the secret to smashing the sales period. "
Q: Fulfilment significantly impacts both customer experience and growth, yet its impact on both often gets overlooked. Can you shed light on how fulfilment directly influences these areas?
A: Warehouse management might seem like a dark art to outsiders, but anyone who has ever bought anything online can tell you about a terrible experience they've had. Nine times out of ten, those issues arise in the warehouse. Order cancelled after purchase – that's the warehouse providing inaccurate stock levels. Received the wrong item or the wrong size – that's a mispick in the warehouse. Order arrives later than promised – that's the warehouse getting behind on orders due to slow or inefficient processes. Order never shows up – well that's the warehouse really getting it wrong.

Even if it's just one order in 1,000 that goes wrong in the warehouse, individual bad customer experiences like these add up over time to create bad reputations, searing reviews and negative sentiment in the comments. Once a brand gets a rep for being unreliable and painful to shop with, it's a tough uphill battle to win back lost trust. So, yep, fulfilment performance relates pretty directly to growth. There is a strong correlation (or is it causation?!) between retailers who have the logistics side of their business nailed with error-free, efficient processes, and the retailers are also growing the most sustainably with increasing profits, customers and loyalty.
Q: What common challenges do brands face when setting up a fulfilment solution and what advice would you give to avoid these pitfalls?
A: If you're setting up your own fulfilment solution, like a WMS, that means you have taken the decision to run your own warehouse and own your fulfilment, rather than outsource that all-important piece of the customer experience to a third party – you can read about Saint and Sofia, one of our customers, that just went through the same decision process here. For a lot of up-and-coming brands, it'll be the first time anyone at the company has actually done this. So the challenge of learning as you go always comes up, as well as the importance of hiring experienced people in key roles, like an all-star warehouse manager or operations director. It's reassuring for founders and brand builders to have someone in the room who has seen it all before and can get that new warehouse, plus the technology, humming.

If it's not a new warehouse, but instead swapping out an old fulfilment solution for a new one, it's important to be clear about what features and functionality are required from the new, as well as an understanding of why the old was no longer (or perhaps never) fit for purpose. We see a lot of brands go through rapid scale up. They chose all-in-one type apps and "plug and play" solutions to handle their warehousing and inventory to begin with. But, these types of systems can only get you so far. However, investing in a new system with a long list of features you may never use, when all you really need to do is pick and pack orders a bit faster, can be equally damaging to the bottom line of your business!

Our advice – seek out expertise in your network, understand the capabilities of various solutions at different price points, and plan for the future. Warehouse Management System implementations are not a light undertaking, and you don't want to make a habit of doing them.
Q: As an expert in shipping and logistics, what do you foresee for the future of this often underestimated aspect of ecommerce operations?
A: Trends, viral videos and hyped products come and go, but operations are here to stay. At least, that's the way we see it. The importance of having tight control on your "cost to fulfil", i.e. the outgoing costs associated with your warehouse, fulfilment and shipping processes, is only increasing as margins are squashed by ad costs and the cost of living crisis takes disposable income out of consumers' pockets.
"Brands who take shipping and logistics and see it as a potential profit centre, rather than a cost centre, will be able to maintain growth trajectories. Something Peoplevox and Penny Black are strongly aligned on here – perfect fulfilment is great for customer experience and will win repeat business, and personalised offers and great unboxing experiences are incredibly lucrative marketing tools. "
Looking further ahead, the broader trend of "ecommerce" becoming "all commerce" is going to have huge ramifications on the logistics operators. It won't be enough to offer an online store with 4-5 days shipping. Modern brands are already flexing their operational muscle here – buy online and pick up in-store, try in-store and order for home delivery, pop-ups, wholesale channels, and strategic retail partners. Keeping tabs on inventory when selling in more places and shipping in more ways is complex. Getting it wrong, leading to overselling, unfilled orders, lack of stock and no insights from accurate data, will be crippling.
Curious about the ROI of personalised inserts?
Fill out our ROI calculator and see the additional revenue personalised inserts will add to your business.