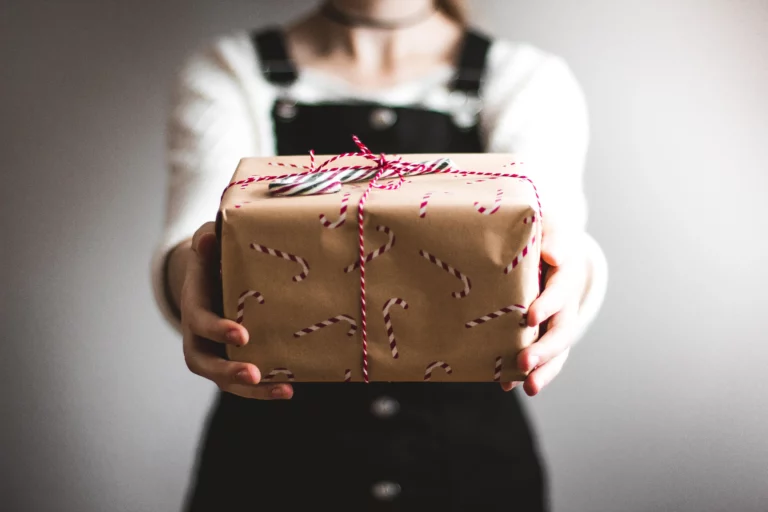 'Tis the season: 3 examples of seasonal unboxing campaigns
The Christmas ads are out and the mince pies are stacked high on the shelves. The time for Christmas shopping is here. Tis' the season for endless opportunities for growth – especially with nearly 40% of online sales being generated in the last three months of the year. 
With so many brands using the season to acquire new customers and clear stock, It's essential to use every touchpoint you have with your customers to encourage them to turn to your brand – either to buy their gifts or to check you out again if they've received one of your orders as a present. Overall, the seasonal peak is the prime time to both make your loyal customers feel valued and to increase your chance of discovery by new shoppers.
One of the best ways to push seasonal messages is to create a high-quality seasonal unboxing experience that makes the recipient feel valued. This is because attractive packaging stimulates the parts of the brain responsible for reward-seeking. For customers, opening an aesthetically pleasing package makes for a delightful and memorable experience. Plus, if you sprinkle in some personalisation magic and you'll have a recipe for long-term, loyal customers for life.
Over this year's seasonal peak, it's time to harness the unboxing moment to make first impressions count and to maintain a high-standard customer experience for your existing shoppers.
Bah Humbug: Time to shake off those reservations 
We wouldn't blame you for thinking that this is asoll well and good, but setting up an unboxing experience specifically for peak sean is a logistical nightmare, costly and a waste of time. But, at Penny Black, we know this simply isn't true.
Our platform means you can set up seasonal unboxing campaigns in just a few clicks – exactly like how you would with any seasonal email campaign. You can then print personalised inserts, in real-time, that get added to your customers' orders as part of the pick-and-pack process. These flyers include QR codes that achieve scan rates of around 7% and conversion rates as high as 20%. So, this peak season, think of your unboxing moment as not only a key branding opportunity but also as a key conversion point for more sales and to build emotional loyalty.
Below we explore three examples of seasonal unboxing campaigns that will inspire you to create your own this year.
🎁 The gift of personalisation: Bird & Blend's personalised gift notes
Personalisation is a tried and tested way to delight your customers and turn them into loyal customers for life: 
80% of customers are likely to buy from a company that provides them with a tailored experience 
And, 70% say that how well a company understands their needs impacts their loyalty
This holiday season, lean into the gifting mentality by letting customers add personalised gift notes to their orders. This will mean you're able to give existing shoppers a high-quality customer experience as they're able to give their loved ones a thoughtful unboxing experience. Meanwhile, these gift notes allow you to promote content to new customers who are discovering you for the first time. 
For example, the tea brand Bird & Blend has set up a gift note unboxing campaign where shoppers can add messages to any orders they're sending out as gifts.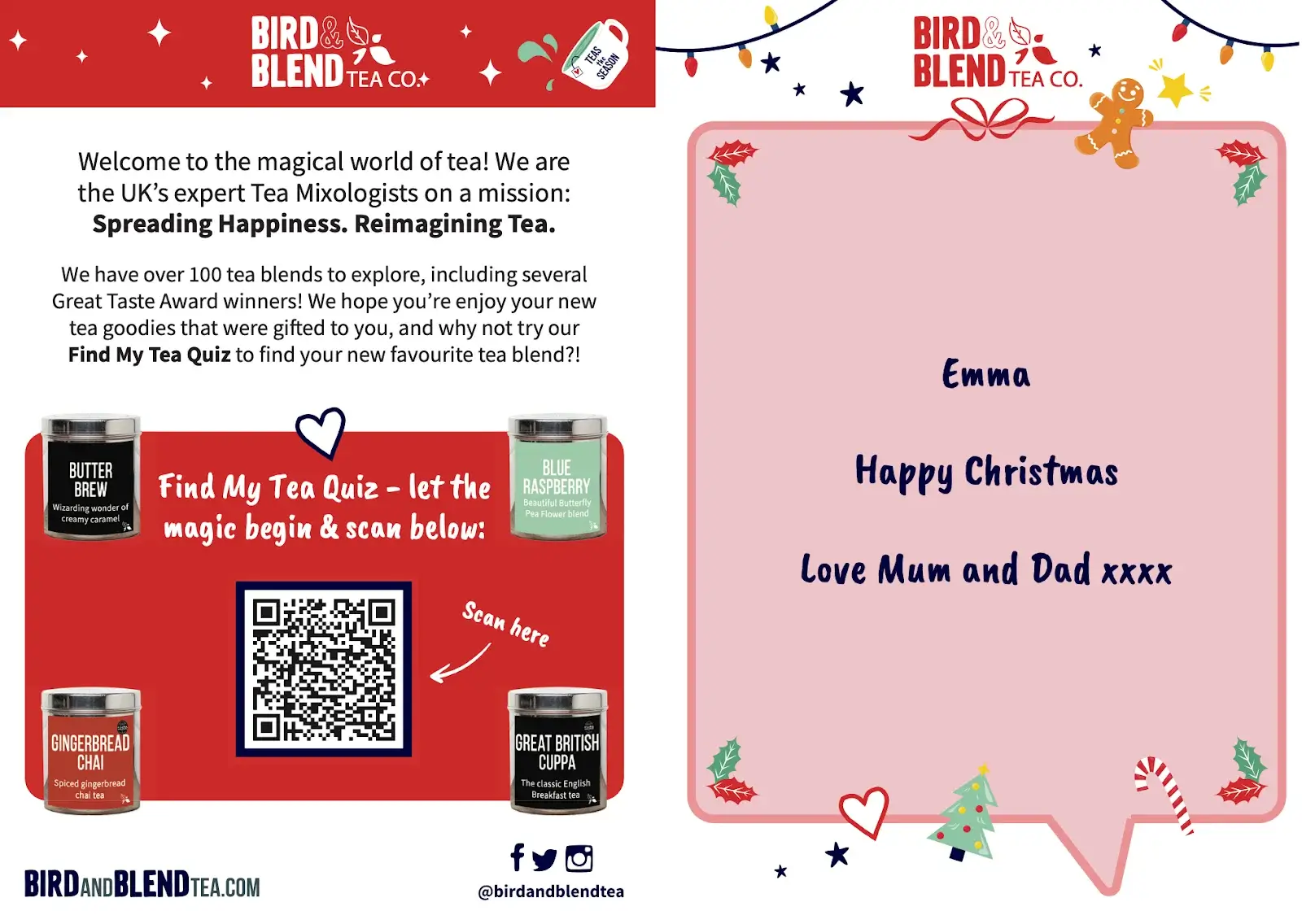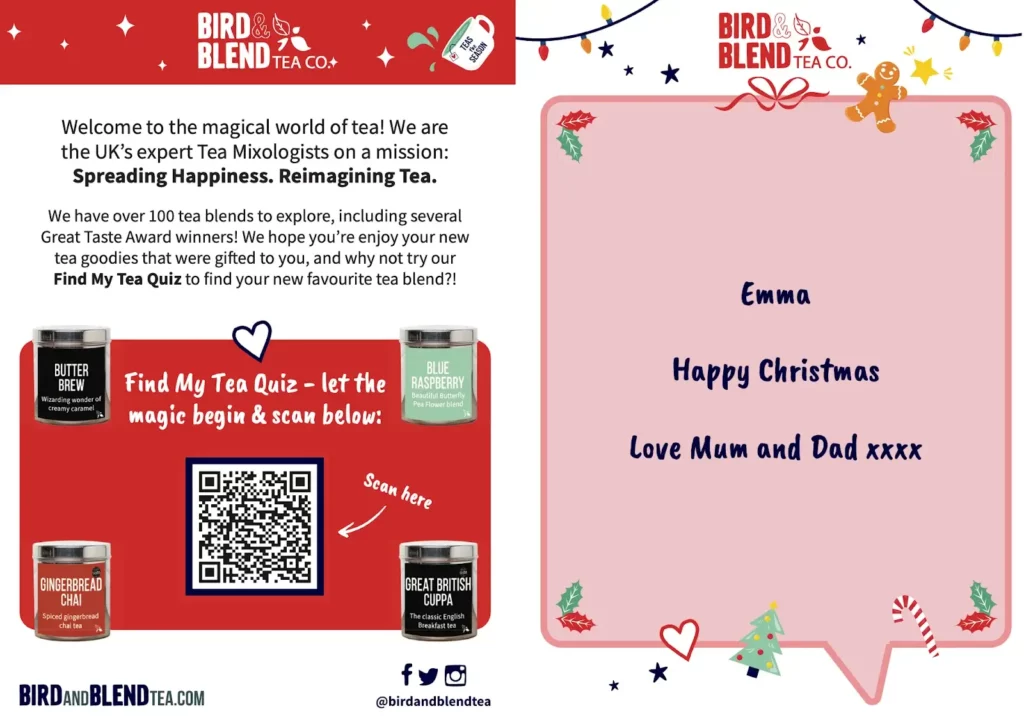 These notes not only provide sentimental value to the individual who receives them, but also gives Bird & Blend the opportunity to showcase its brand values and form emotional connections. 
They've included content about who they are as a business, their brand values and a QR code that encourages the customer to complete a Tea Quiz. Once they've completed it, these new customers will be recommended their perfect tea and may even be prompted to buy it. 
This means Bird & Blend are able to use the gifting season to build emotional connections with new customers who are hearing of them for the first time. And, by providing these new customers with valuable, personalised content, they'll be more likely to return to the brand again to make their own purchase.
✨ A festive sparkle: Paul Valentine
Another seasonal unboxing campaign you can run is to use personalised inserts to show existing customers exclusive products or collections you're launching at this time of year. 
This is particularly important over Black Friday and Cyber Monday as it's likely you'll be acquiring a huge amount of new customers through your sales. By adding seasonal inserts to these new customers' orders that promote special product launches, you'll be able to expose them to more of your product offering. And, when you get a customer to make a second and third purchase, the likelihood they'll make another shoots up to 54%. 
Recently, the jewellery brand, PAUL VALENTINE, has added an insert to their customers' orders promoting their advent calendar.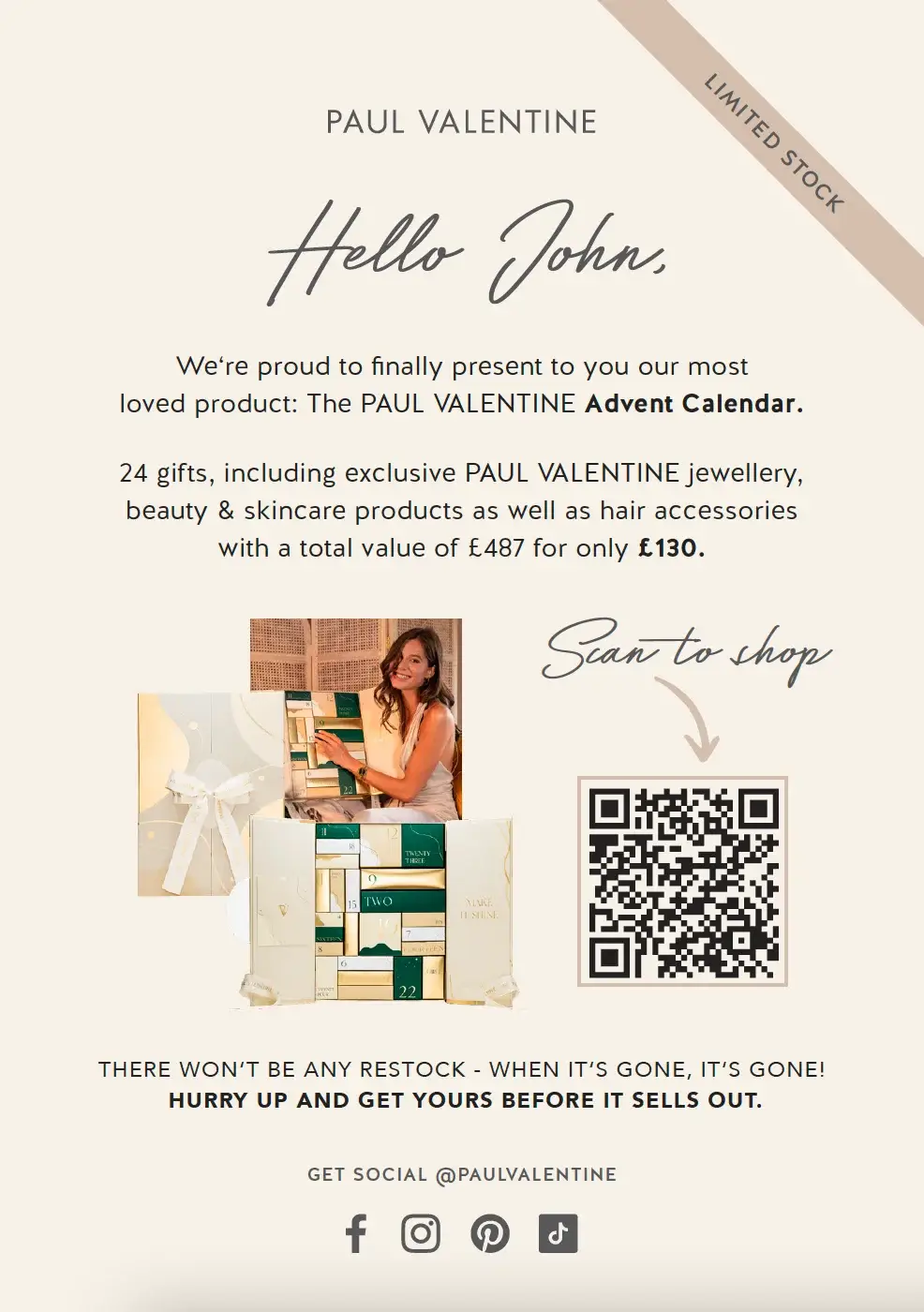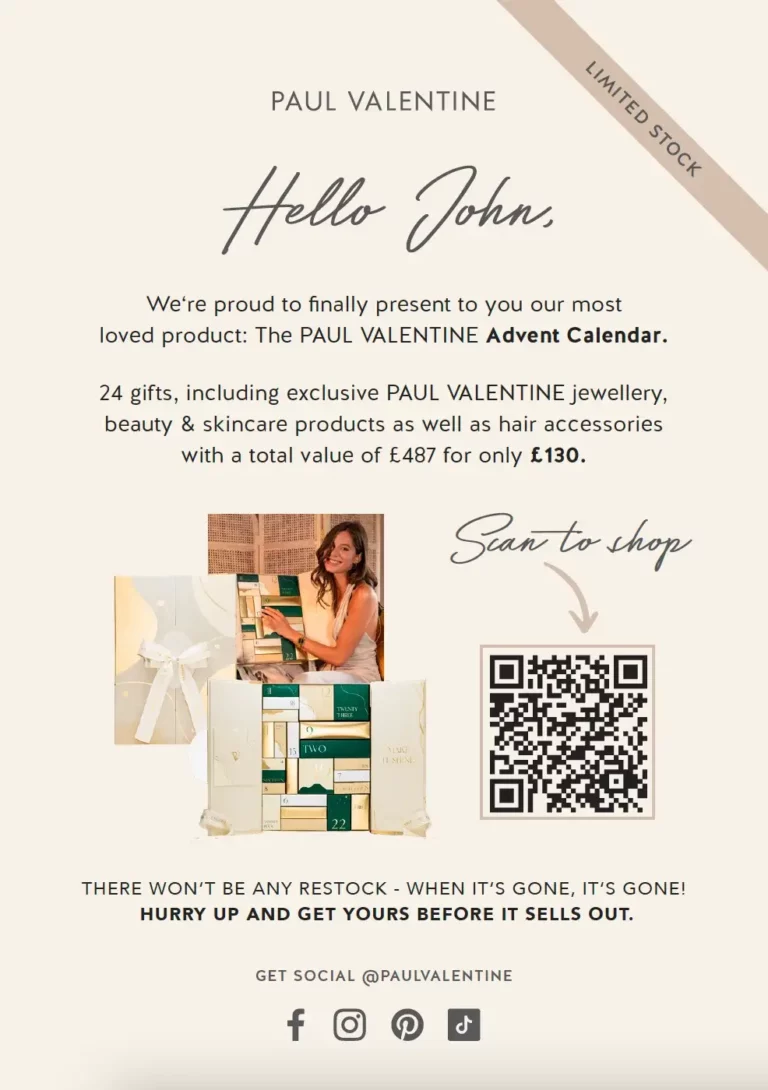 PAUL VALENTINE's team have made simple personalisation choices by adding the customers' name to the design and have also created a FOMO effect by saying there's limited stock. 
They've also included images of the advent calendar alongside a QR code that's outlined with a clear arrow showing customers where they have to scan. PAUL VALENTINE also decided to include the value of the products included in the calendar, to show customers that by buying it they're getting a bargain. 
Using their unboxing experience this way enables PAUL VALENTINE to cross-sell the product to customers who make purchases from now up until December. If the customers enjoy the advent calendar experience they're also then likely to post unboxing videos of it on social media, helping PAUL VALENTINE grow its visibility online and across social media.
Last year, PAUL VALENTINES's advent calendar campaign received 7% scan rates and 15% conversion rates. These results are a sure indication that it's worth exploring your own seasonal unboxing campaign – especially for products that are seasonal-centric.
🎄 Deck the Halls: Bird & Blend's Christmas products
This year Bird & Blend have also created inserts for their seasonal-specific products.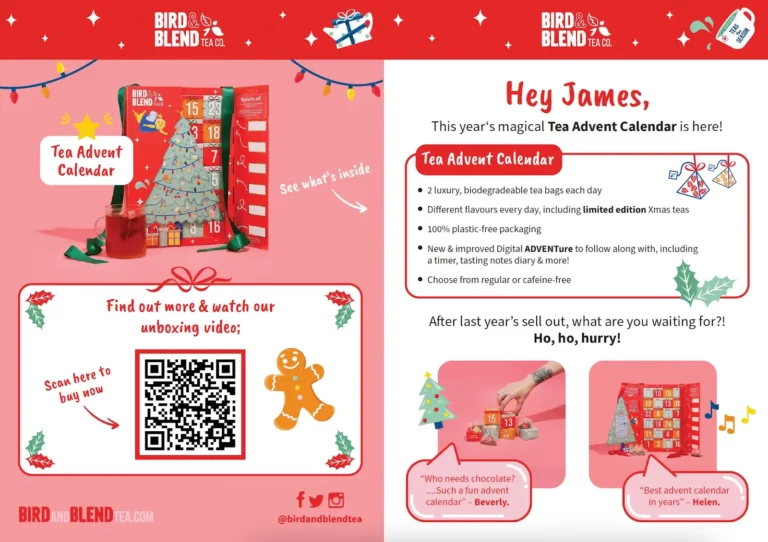 First, they've produced an exciting Christmas-branded flyer that promotes their tea advent calendar. As with their personalised gift notes, this one is also personalised based on the customer's name providing an instantly welcoming visual for new customers. 
The flyer includes Bird & Blend's Christmas brand icons and images of the advent calendar customers will receive. It also shares the exclusive perks they'll get for buying it (for example, access to an exclusive digital adventure). 
To encourage seasonal shoppers to make the purchase, Bird & Blend also includes social proof on the insert with reviews from shoppers who bought the calendar last year. The QR code also takes customers to an unboxing video so they can see what's inside.
Simple and engaging social proof like this is vital because research has shown that 66% of consumers will most likely buy a product because of its positive reviews. 
Secondly, Bird & Blend have also created specific inserts for customers who purchase their Christmas teas.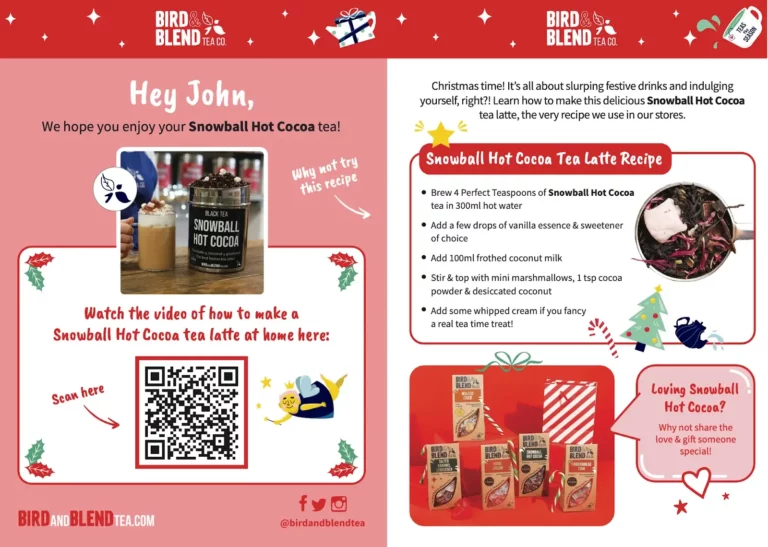 These inserts include recipes for how the shopper can make the most of the tea in warming drinks and also encourages the customer to buy the blend as a gift for a loved one.
All of these simple elements combine to make engaging unboxing experiences that show Bird & Blend customers the value of purchasing their seasonal products. This will help to boost a number of business metrics including customer loyalty, retention and, ultimately, revenue.
Conclusion
It's time to get in the festive spirit! Christmas is all about gift-giving and unforgettable unboxing experiences. Using the examples we highlighted above, you should take care to make your unboxing experiences special this year. It's important to offer something unique and exciting because everybody enjoys the exhilaration of opening a present at Christmas time that's personal and just for them. 
To learn more about seasonal unboxing experiences and how you can succeed this year, feel free to get in contact and speak to a member of our team.