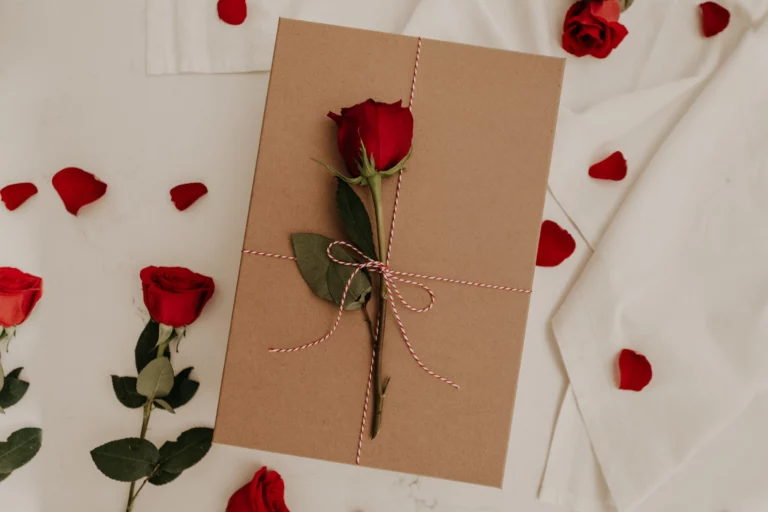 Creating personalised unboxing experiences this Valentine's Day
The season of love is fast approaching – a significant time for romantics and ecommerce brands alike. For many years, Valentine's Day has been the first big opportunity of the year for ecommerce brands to acquire new customers and retain loyal ones.
Consumers are looking for great deals, exciting experiences and the perfect romantic gift. And many are willing to spare no expense. In 2022, people were estimated to have spent $23.9 billion on Valentine's Day. So, how can you enjoy a portion of this Valentine's Day spending?
To acquire customers you need to show people receiving a gift that you're a brand all about making them feel special. If you make your first impressions count, they will be more likely to make a first purchase with you. Alternatively, to retain customers, you can show gift givers that you're focussed on providing a positive experience for them (and their loved one). They'll then return to you if they're looking for another gift (or even something for themselves). 
In this blog, we'll be looking at how you can perfect these personalised unboxing experiences to help you make the most of this next Valentine's Day frenzy.
Why personalisation is vital this Valentine's Day
Customer expectations are rising. Shoppers want a friction-free experience with the brands they shop with. 66% of customers expect companies to understand their unique needs and expectations – and meet them.
Part of delivering a frictionless experience is about giving your customers a personal experience across their entire customer journey. 52% of consumers agree that as digital experiences with brands become more personalised, their satisfaction improves. And, 80% of consumers are more likely to buy from a company that provides a tailored experience.
Even though personalisation is vital over Valentine's Day, lots of brands fail to personalise one of the most important parts of the Valentine's gift – the unboxing moment.
Gifting and unboxing need to come hand in hand. The moment needs to be memorable, exciting and create feelings of delight. It can't just be a boring brown box – dull packaging and a lacklustre unboxing will ruin the sentimental moment.
Next, we'll share how to make every Valentine's Day unboxing moment special and personalised to retain current customers, and attract new ones.
💖 Tip 1: Send beautifully designed, personalised gift notes
Penny Black's Smart gift note feature allows you to capture the critical early moments of a customer journey. You can use the messages that your customers leave at the checkout, print them onto beautifully designed inserts and add the inserts to the order when it's fulfilled.
Sending personalised gift notes allows you to build strong emotional connections to your brand. You can appeal to the recipient's interests by sharing content related to the gift (for example, tutorials or styling tips) and demonstrate that you are aligned with their needs and wants. From there you can strengthen your bond with customisation that matches your brand identity.
Smart gift notes also create a trackable source of additional revenue for your brand. This year, closely follow engagements with the gift through CTAs and QR code scans while at the same charging shoppers for adding hyper-tailored gift notes to their orders. Overall, this will allow you to make an immediate positive impression on the gift recipient (as they're getting a personal experience) and build loyalty with existing customers (by showing you want their loved one to get an extra-special moment).
The loose leaf tea brand Bird & Blend are a good example of a brand making the most of Penny Black's Smart gift note feature. They have used it to allow their customers to give the gift of great-tasting tea.
The insert welcomes the recipient into the brand's community and shares its brand mission alongside the customers' personalised message. Bird & Blend also uses the insert as an opportunity to engage this new customer by providing them with a QR code to complete their "Find My Tea Quiz", exposing the individual to more of their product offering. Meanwhile, allowing the brand to collect more zero-party data on the individual to send them more personalised marketing down the line.
💖 Tip 2: Use the unboxing moment as a conversion opportunity
It is important to remember that most orders over the Valentine's Day period are gifts for people who may never have heard of your brand before. This makes Valentine's Day (and other gifting seasons) an ideal time to acquire gift recipients as new customers that may eventually spend more with you in the future.
To grow your customer base during the romantic season, you should work attractive CTAs into your in-package inserts. These CTAs can motivate gift recipients to scan a QR code, head on-site and engage with your brand.
Experiment with a variety of CTAs to create something that matches with your brand identity and loyalty strategy. For example, you may want to include a discount that the customer could use on their first order with you. Then if you get a customer to make a first and second purchase the likelihood that they'll make a third increases to 45%.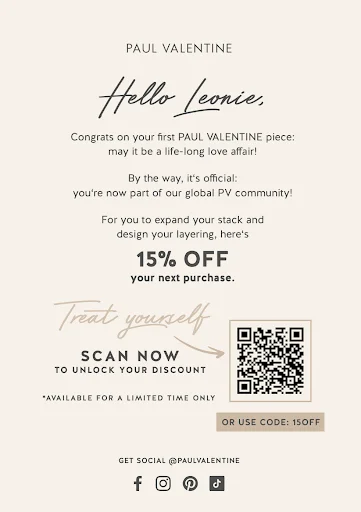 Alternatively, give customers inserts that motivate them to subscribe to the product they've got. For example, if you're a coffee brand and someone's gifted a coffee tasting box, motivate the gift recipient to subscribe to that coffee. You then get a life long customer who's locked in and possibly even keen to share your brand with other people in their circle. Including marketing CTAs in these inserts allows you to turn new customers into loyal ones outside of the gift-giving season.
💖 Tip 3: Convert your Valentine's Day success into sustained loyalty
It's hard work building the loyalty of these gift recipients. However, if you don't have a connected Martech stack, and the ability to keep nurturing these customers, they may forget about you after Valentine's Day. That's why you must use the analytics and intelligence you receive from these personalised unboxing moments to inform the rest of your marketing mix beyond the Valentine's Day peak. 
By integrating all the tools in your stack, you'll be able to use the zero-party data collected from in-package inserts to personalise the rest of the post-purchase journey. 
Send personalised emails or SMS that give the shopper a discount a few weeks after the peak. This will remind them of your brand and motivate them to make a purchase. Alternatively, use the data you have to send them other personalised content such as an article based on their preferences they shared with you or reviews of the product you recommended to them. 
Consistency is key to building enduring loyalty. So, use the Valentine's Day peak as a catalyst to maintain your connection with gift recipients and organically grow your customer base.
Personalise the Valentine's Day experience
Valentine's Day is a crucial moment to focus on personalisation and the unboxing moment. To make the most of the romance in the air during February, brands should employ personalisation tactics like the smart gift note feature and ensure their unboxing moment this Valentine's Day lasts long in the memory.
To learn more about our smart gift note feature, and how you can implement it, ahead of Valentine's Day take a look at our Insights page.